About Us
Welcome to Wokingham tools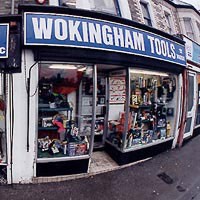 Wokingham Tools is a family run business owned by Keith and Elaine Gibling. Wokingham Tools has been trading since 1975. We started life as an office in Wokingham just outside Reading in Berkshire selling a small amount of hand and power tools direct to the trade. After a year it was very obvious Wokingham Tools needed bigger premises so we acquired a shop just outside Reading town centre where we are today. Wokingham Tools has had to keep on expanding building a bigger and better name for ourselves with a reputation for quality and service to match. As before Wokingham Tools kept on getting bigger and better so we bought the shop next door, with a few extensions here and there we are now expanding onto the internet.
Wokingham Tools carry a huge amount of stock, one of the best stocked independent tool shops in the south. We mainly supply the trade but we also have a very large following of keen DIYers and wood turners.
Wokingham Tools is a main dealer for most of the professional power and hand tool manufacturers. We are also warranty agents for most of them.
Wokingham Tools has a fully equipped workshop in store to repair any warranty claims also to do ongoing servicing of the main makes of power tools
Wokingham Tools keep up with the tool trade as much as possible so we send our staff on regular training courses provided by the manufacturers.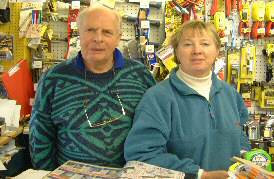 Keith Gibling (managing Director)
Keith has been in the tool industry for over 50 years were he started as a young boy at Wolf power tools. He was there for over five years ending up as one of their sales reps. He moved on to Bosch power tools after that and was a sales rep for Bosch for 9 years when he saw the need for a tool retailer near Reading, Wokingham Tools was born shortly after.
Elaine Gibling (Director)
Elaine has been in the tool trade for over 40 years. She started her life in the trade as a young woman when Keith and Elaine started the company Elaine is extremely knowledgeable about the tools that we stock and sell.
James Jenkins (Shop Manager)
James has been in the retail industry for 25 years now, Working in many different areas making him an expert within retail. He has worked within the power and hand tool market for 8 years and has built up a strong relationship with all the main tool manufacturers and distributors. He has been expanding on his already vast knowledge by attending training courses and tool conferences on almost a monthly basis.
Gary Teale (Workshop Manager)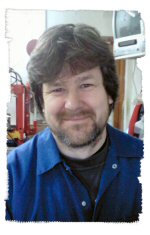 Gary has been repairing power tools for over 20 years starting with Black and Decker then moving to Wokingham Tools 10 years ago. Gary is very knowledgeable and repairs most of the machines in store doing warranty claims and after market repairs. Gary is especially well known for his Paslode repairs. Gary is also in charge of our hire fleet.
Zoran Djakovic (Petrol Specialist)
Zoran has been part of the Wokingham Tools Family for over 10 years now working in all areas of the shop. After expanding his knowledge within the petrol and repairs market he is now our in store expert regarding petrol and garden machinery. Zoran has wokred in all areas of tool repair and repairs any machinery in store that comes through our workshop. Zoran is a part time member of staff and normally works Thursday and Friday.
Monday - Friday 8:30am - 5:30pm
Sunday and Bank Holidays

CLOSED